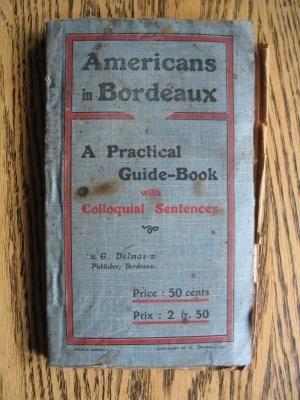 What : Here we highlight the beginnings of the American exploration by the Frenchman Jacques Cartier from as far back as the 16th century. The Enlightenment and American Independence from the English with the help of a young lad known as Marquis de Lafayette. Thomas Jefferson's brief stay in Bordeaux and American wine merchants dating from the 18th century. A leap to the 20th Century WWI where Bordeaux 'New Bassens' was entirely constructed by the American regiments as a supplies port to help the western front in 1917 till the end of the Great War. Finest Bordeaux Wine Chateaux owned by Americans and current investments of the 21st century !
When: This is a 3 hour tour which is given as a private tour for 1-8 people. This tour can be available most days of the week starting at the time that is most convenient for you.
Prices: 310€ for a 3 hour tour
340€ for a 4 hour tour
Depending on your stamina we may walk or tram tickets may be optional :
One trip ticket : 1,70€
Daily tram ticket : 4,70€
Who: Individuals, couples, families, small groups … Anyone interested in American history in France.
How to Book: Please contact info@bordeauxwalkingtours.com for availability prior to proceeding with payment.
How to pay: Upon receiving an e-mail confirming availability you may Reserve online to pay in advance.
Meeting point: In the center of downtown Bordeaux or on the door step of your downtown hotel if central for the 4 hour tour.
Rates: 2019